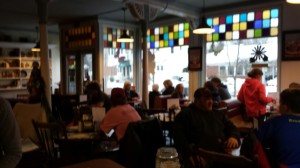 The Hardware Café & General Store is a unique historic building located in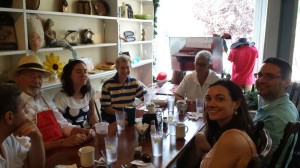 the heart of downtown Fair Haven, just off Lake Ontario. Breakfast and lunch are served daily and gourmet coffees, teas, ice cream, smoothies and other specialty drinks are always available. We feature a variety of local products including books by local authors, crafts by local artisans, as well as seasonal apparel, jewelry, gifts, toys, antiques and uniques. Additionally, for your convenience, we offer free Wi-Fi. The special building, unique products, friendly atmosphere and good food make the Hardware Café a place you'll want to experience!
We are open daily from 8AM-3PM, Saturdays until 7PM and we offer Saturday night special dinners from 4-7PM

———————————————————————————————————————————————————————————————————————————-
Special Event, December 2, 2016 – Holiday Concert w/ Dan Duggan & Peggy Lynn
To kick off the Holiday season this year, we are fortunate to have award winning musicians and songwriters Dan Duggan & Peggy Lynn perform a Holiday concert featuring guitar, dulcimer, and concertina.  Together they combine instrumental & vocal renditions of both original and traditional seasonal pieces.  Dan and Peggy are known for their unique arrangements and masterful harmonies.
Their performance will start at 7:00 pm  on Friday, December 2.  The café is offering a special Holiday dinner of Beef Bourguignon preceding the concert, starting at 5:30. A vegetarian option (Hardware garden salad and soup) is also available.  Seating is limited; Reservations are required by November 30.  Cost for dinner and concert is $25 or for concert alone is $15. For reservations please call us at 315 947-6700, email us at hardware_cafe@email.com, or stop by the café.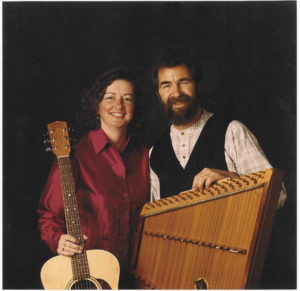 Special Event July 30, 2016 –

Patchouli & Terra 

Guitarra
National touring guitar duo Patchouli & Terra Guitarra are coming to Fair Haven for the first time to perform on Saturday, July 30 at the Hardware Cafe & General Store. Their soulful fusion of blazing Spanish and world guitar instrumentals and spine tingling vocal harmonies, along with their amazing onstage chemistry make this a concert you will not want to miss. Patchouli & Terra Guitarra represent the very top echelon off today's acoustic performers, bringing the highest level of skill together with the passion, experience and joy that are a very rare combination indeed.
After seeing these multi-talented musicians perform live in concert this winter, we were inspired to invite the duo to come play at the Hardware Café while on their tour thru NY. They will offer a sonic sneak preview of songs during the Fair Haven Art Center's Art Show earlier in the afternoon on July 30
th
. Seating for dinner at the Hardware Café will be until 6:30pm that night with the show beginning at 7pm. Concert tickets are $15 and include wine, soft drinks and dessert.
This unique concert on July 30 when the duo performs their original blend of folk meets flamenco with their blazing guitars and heartstring tugging lyrics, Patchouli's energy and chemistry guarantees to make the night an uplifting one of music and art that will leave you uniquely inspired and excited to pick that old guitar back up.
A reservation is recommended to secure your seat. Call 315-947-6700 or email
hardware_café@aol.com
  Tickets are available now at the Hardware Café, 566 Main St., Fair Haven.
Patchouli & Terra Guitarra Multimedia Concert
"Patchouli live is amazing.  I compare it to taking a yoga class in a field of running mustangs." –City Pages