Originally a hardware store built in 1874, the Hardware Café & General Store has recently been converted into a combination restaurant and retail store.  Its charm lies in its historic character which has been preserved by maintaining the original windows, wooden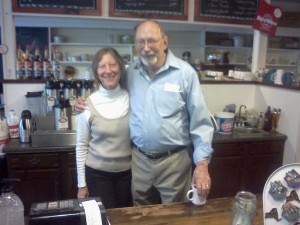 floors, ceilings & wooden counters.
The Hardware Café & General Store is locally owned and operated by Larry & Susan Lemon who retired to what they thought would be a quiet life in the country after years of working at stressful engineering jobs in Syracuse. When they first came to Fair Haven they loved coming to the Hardware Café and when it came up for sale they decided to buy it to make sure Fair Haven would not lose this wonderful treasure. So much for the quiet life!
As owners we feel it is important to keep it the kind of place we like to frequent- a place where people connect, where all feel welcome, where you can get good food at good prices, and where you can find unique quality merchandise at affordable prices. The Hardware Café is a place where you can see and feel the history of Fair Haven. But more than that – it is a place that simply feels good to come into and where the unexpected may just happen —-